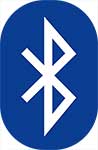 Bluetooth communication technology, originally designed to allow voice-over (headset), is nowadays of great interest to allow to communicate with the powerful new tools that are smartphones and tablets. We use it primarily for a smartphone app like Android, iOS or Windows to interact with embedded systems of all types.
It is also a protocol that provides data transfert at a very higt bite rate for the world of connected objects.
BT faults reside in :
The large power consumption (excluding BLE)
The very limited scope
Very limited network topology (star)
BEENETIC Systems has already successfully implemented several products in BT BLE 4.1.
Do not hesitate to ask us to use it on your products.
More information about the BlueTooth protocol itself : www.bluetooth.com